Martin Butler Taxis Kilkenny offers you a FAST, CLEAN and PROFESSIONAL taxi service with FRIENDLY DRIVERS and GREAT PRICES!


Clean Taxis
We assure you Clean and Odor free Taxis for your comfort.
Professional Drivers
Our Taxi Drivers are professionaly trained and experienced.
Competitive Fare
Martin Butler Taxis Kilkenny provides high-quality taxi service at competitive rates.
Welcome to Martin Butler Kilkenny Taxi Service
Providing you with an excellent Taxi Service in and around Kilkenny City and throughout County Kilkenny. A prompt and friendly Taxi Service awaits you, we are just a phone call away.
Free yourself from the hassles of lining up or hailing a taxi on the street. Share your ride with your friends and get to your destination safely with our pool of professional drivers.
Wheelchair friendly taxis are available, and for larger groups we have 8 Seater Taxis and Minibus available for any destinations or events locally or nationwide.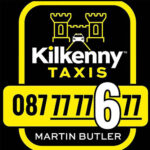 Free Taxi Call Box for Business
If your business needs a free phone service direct to our number we would supply a free phone in your business premises or hotel reception!
Call Us for More Info: 087 77 77 677